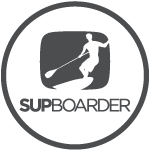 SUP BOARDER AWARD – BEST LONGBOARD SUP read more >
High-performance Longboard that is versatile, incredibly responsive and smooth to turn.
This paddle board is inspired by our legendary Starboard Surf Longboard model, designed to perform in waves from 1ft small beach breaks to head high reef breaks. The boards offer fast down-the-line surfing, as well as the ability to perform in the critical section of the wave. These cutting-edge shapes are totally well received by our team riders and anyone who have tested them.
LOW VOLUME THINNED OUT RAILS
Easily engage with minimal foot pressure, giving control down the wave face and hold through steeper sections of the wave.
Ultra-responsive and sensitive to turn direction with speed and control.
PARALLEL OUTLINE
Parallel straight outline in the midpoint provides a smooth fast glide that is easy to trim the board.
GRADUAL NOSE KICK
Ensures a smooth take off into waves without pearling.
FULLER NOSE OUTLINE
Gives enough float and stability to ride toes on the nose for classic Longboard styling.
RELATIVELY FLAT MIDSECTION
Delivers speed feeding into a moderate tail kick for responsive turning.
FLAT DECK
Flat deck improves stability and makes transitioning effortless from rail-to-rail allowing for drawn-out carves.
NARROW DIAMOND TAIL
Is extremely reactive in bottom turns.
DOUBLE CONCAVE
Allows the board to roll onto its rail effortlessly to turn direction from the standing area.
The pronounced vee tail makes turning very crisp and reactive, essential for fast bottom turns and of the top.
FIN POSITION
After testing multiple fin positions, we chose to place the side fins very close to the rail. This enables carving with precision and hold through turns, while the center fin position gives tracking and drive.
Can also be surfed as a single fin.
Swipe over the board to see bottom view
NEW

 

BLUE CARBON
LIGHTWEIGHT, 2x FULL CARBON, STRONG AND DURABLE
Full wrap of 150g Biaxial Carbon for its durable skin and strength, combined with a full UD Carbon wrap for additional stiffness and total breakage strength.
Extra glass reinforcements are positioned in the critical standing area to prevent heel dents and for extra strength over sharp edges.
New extra reinforced foil box uses a large PVC plate sandwiched between 2 x strong glass layers for the highest total breakage strength.
LEARN MORE
NEW

 

STARLITE
THE STRONGEST RAIL EVER TESTED
Ultra-durable, scratch and impact resistant woven 200g twill azure rail protection.
The combination of twin T-stringers deck and bottom to protect against total breakage. The T-stringers are positioned close to the rail working like an i-beam to endure heavy drops and strong wideouts.
Starlite now features a full deck of 0.6mm Australian pine wood which is sandwiched between 2 glass outer skins, increasing the overall total breakage strength and reducing the weight due to lower resin absorption.
LEARN MORE
NEW
10'0″ x 31″ / 147L
Length: 10'0" / 305 cm
Width: 31" / 79 cm
The added thickness in the standing and wider width make for a super stable ride, yet with the same bite and response that make this model perform so well.
Available constructions:
• Blue Carbon
• Starlite
10'0″ x 29″

 

/ 123L
Length: 10'0" / 305 cm
Width: 29" / 74 cm
This board carries more glide and speed from the longer length. The 29" width provides a wider platform with greater stability for heavier riders.
Available constructions:
• Blue Carbon
• Starlite
9'0″ x 28″ / 101L
Length: 9'0" / 274 cm
Width: 28" / 71 cm
This board is suited for lighter riders that want faster and reactive maneuverability.
Available constructions:
• Blue Carbon
• Starlite
NEW
9'0″ x 26″

 

/ 95L
Length: 9'0" / 274 cm
Width: 26" / 66 cm
Narrower width helps fit in more critical sections of the waves, generates faster speeds down the line and is ultra reactive to foot pressure. Features a unique concave nose for long nose riding.
Available constructions:
• Blue Carbon
• Starlite
← Scroll sideways for more sizes →
Weight tolerance +/- 5%