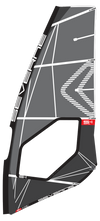 S-1


The new S-1 is built on the exact same pattern as the S-1 Pro, but uses VX2 and eM3
laminate materials to reduce cost with only 150g added weight*.
The GRADIENT PANEL TECHNOLOGY logically reduces weight, increases strength and controls stretch. Overall weight is reduced but the more significant improvement is the feel – quicker reacting and lighter feel.
Rather than a single curved luff panel, the S-1 uses separate panels that radiate out of the head and tack corners. This perfectly aligns the sail material with the direction of load. Previously the curved panel would have bias stretch in all the wrong places. Direct transmission of power. Increased longevity.
The boom length has been shortened on bigger sizes (4.8 and up) to reduce the back-hand pressure that builds up as the wind increases. Instead, the power has been shifted up in the sail giving more leverage to accelerate instantly in light winds.
* Depending on size
/ MANOEUVRE ORIENTED WAVESAIL
/ TUNABLE
/ UPGRADES
/ GRADIENT PANEL TECHNOLOGY
/ MORE STABLE
/ LESS STRETCH
/ LIGHTER