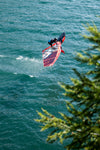 PREDATOR 

_FOIL STYLE
MAXIMUM PERFORMANCE. MAXIMUM STYLE.
The Predator is a dedicated windsurfing foil board. More aggressive than the Alien, it is designed to carve, jump and rotate on the foil.
Available in 3 sizes to suit a range of riders. Length is kept short on all sizes to reduce the lift required to keep it flying and also to increase maneuverability. Premium construction keeps the weight significantly below industry standard for real performance.
Designed to be ridden with both feet in the straps during moves, or with the back foot out on the rail when blasting. Inserts are only inboard for the back foot – this forces the rider to keep their weight directly over the foil when jumping or loading up the foil, and massively reduces leverage and the chance of breakages. As a true windsurf board, a deep-tuttle box is used for reliability, consistency, and ease of use. Excess inserts and finboxes have been eliminated, increasing simplicity and reducing weight.
Match the Predator with a FoilFreek for the ultimate combo. Larger Freek sizes also open up a world of carving and 360s' in lighter winds for any size rider. Easily accessible to the intermediate foiler, the higher volume boards are also realistic for the motivated freestyler getting into foiling for the first time.
| SIZE | LENGTH(CM) | WIDTH(CM) | WEIGHT (KG) (+/- 5%) | IDEAL SAIL | FIN BOX | RIDER WEIGHT (KG) |
| --- | --- | --- | --- | --- | --- | --- |
| 95 | 185 | 64 | 6.3 | FoilFreek/ Freek 4.0 to 5.2 | Deep tuttle foil box | <85 |
| 110 | 190 | 68 | 6.7 | FoilFreek/ Freek 4.4 to 6.3 | Deep tuttle foil box | <95 |
| 125 | 195 | 72 | 7.1 | FoilFreek/ Freek 4.8 to 7.0 | Deep tuttle foil box | <105 |
| SAIL | RATING | PRO TIP |
| --- | --- | --- |
| FoilFreek | + + + + + | |
| Freek | + + + + | |
| FoilGlide | + + + | Smaller sizes work better on Predator |
| Blade | + + | Use more mast extension to raise clew height/less downhaul |
| S-1 | + + | Use more mast extension to raise clew height/less downhaul |
| Gator | + | Smaller sizes work better on Predator |
| NCX | - | |
| Turbo | - | |