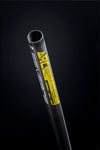 ARC
 incl.bag
Perfect for recreational racing and freeride, the ARC is our strongest SDM mast with dual outer fiberglass layers. Built on the Apex mandrel for a lighter, stronger mast.
/ VALUE + PERFORMANCE
/ INTEGRATED FERRULE
/ TORAY PRE-PREG CARBON
/ +7 MEASURED OFFSET ACCURACY
/ SLIPLOK PREVENTS BOOM FROM SLIDING

Alternating texture patterns in the boom area increases friction for less slippage. This eliminates the need to overtighten the boom, decreasing stresses on the mast.
No more than 10-15kg of pressure needs to be applied on the boom head lever for it to close. 
DO NOT OVERTIGHTEN!
Overtightening the boom head causes damage to your mast.