Here at Freedom, we are firm believers that the pinnacle of anyone's foil game is achieved by mastering the strategy and the matrix known as downwinding. Our team of riders and designers have been working behind the scenes for years as we have slowly refined our version of the perfect board for endless downwind SUP journeys. The FFB Dagger is the culmination of this prototyping and testing!
The goal of any good downwind SUP foil board is to efficiently get up on the foil. The Dagger's narrow outline and a pulled in pin tail, like many big wave style surfboards, is designed to slice though the water while maximizing speed and glide. The narrowness of these surf inspired gun style downwind weapons essentially reduces the wetted surface area of the board and allows for an incredibly efficient outline with very little drag.
As you can imagine, wind is the all-important factor necessary for conditions to become suitable for anyone looking to voyage into the wild weather that typically prevails during any great downwind session. The Dagger's hull design is one of the key ingredients when it comes to performance in these radical environments. A semi-displacement hull up under the nose gives the board control and the ability to slice through chop at low speeds, then seamlessly transitions to a flat planning hull allowing for early lift and downwind acceleration.
Everything we do at Freedom involves finding ways to create unique purpose driven designs or in some instances take inspiration from a successful design like the V Tail and make it even better. We believe we have accomplished just that with our own unique version of the Kalama inspired V tail we're calling the T-V Tail. Engineered to assist with acceleration of board speed when paddle-pumping, the T-V tail helps with forward drive by creating a small surface area to leverage against through the sharp T rails that gradually increase in width towards the tail of the board. These sharp rails also serve as a way to provide an increase in lateral support making these very narrow SUP boards just a little more functional.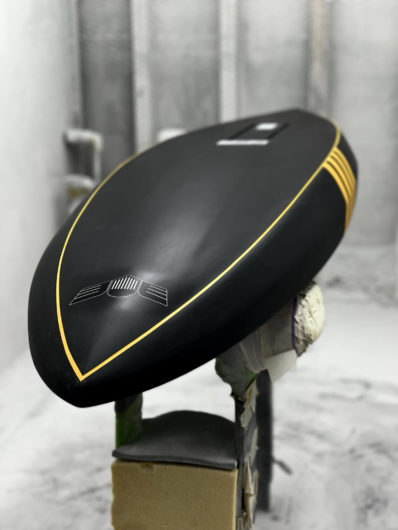 All these features and many more make the Dagger one of our most unique and revolutionary board designs to date. Let's face it, mastering the matrix known as downwinding is about as hard as it gets… The FFB Dagger is designed to make your journey a little easier!
Huge thanks to our team of talented riders who have made the Dagger what it is! Brian Finch, Kyle Maligro, Cole Kawana and Brady Hurley were the Freedom test pilots who spent endless sessions helping to perfect the Dagger's design. Our epic new top secret weapon, The Dagger is now officially available for all of the Freedom Family to enjoy!
AVAILABLE IN 4 SIZES:
6'9″ x 18″ x 5.5″/ 90L
7'0″ x 18″ x 5.5″/ 100L
7'5″ x 19″ x 5.5″/ 110L
7'10″x 20″x 5.5″/ 122L