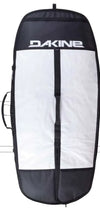 Materials
Heat reflective tarpaulin bottom
White heat resistant tarpaulin top
Neoprene balance finder handle
Dimensions
70 x 140 cm
65 x 170cm
80 x 210cm
FEATURES
Heat reflective tarpaulin bottom

White heat resistant tarpaulin top
Sidewalls with protective binding
Corrosion resistant zipper
Zippered fin slot
Reinforced quad fin protection
Reinforced nose patch
Neoprene balance finder handle
3/16″ [ 6mm ] foam padding
*foil not included
1. **Construction**: Foil wall bags are usually constructed from durable and water-resistant materials like polyester or nylon. They are designed to protect your foilboard and foil components from scratches, dings, and other potential damage during transportation and storage.
2. **Size**: The bag is typically designed to accommodate various sizes of foilboards, mast, wings, and other foil components. It may have specific compartments or pockets for organizing and securing these items.
3. **Padding**: To provide extra protection, the bag often features padding or foam inserts strategically placed to cushion and protect the foilboard and its components.
4. **Handles and Straps**: Foil wall bags usually come equipped with comfortable handles and/or shoulder straps to make it easier to carry your foilboard and components to and from your vehicle or the water.
5. **Zipper or Closure**: The bag typically has a durable zipper or closure system that allows you to securely enclose and protect your foil gear.
6. **Ventilation**: Some foil wall bags may have ventilation features to allow air circulation and prevent the buildup