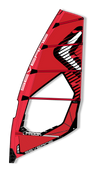 FREEK 

_FREESTYLE
Dedicated freestyle performance. The Freek is designed to give maximum lift, stability, and easy ducking. Higher aspect ratios improve lift. The 5 batten layout means more stability and wind-range, and by utilising our high-tech materials technology actually weighs less than most 4-batten sails.
A dynamic relationship between luff curve and seam shaping enables the Freek to inflate further and faster for increased power and explosive pop, whilst still going neutral for reliable duckability. The higher skin tension adds stability and extends the wind range.
A higher centre of lift increases leverage. The resulting pop is next level.
The Freek has bigger difference between it's loaded and unloaded states, so you can go from zero to massive in an instant. Explosive.
Dedicated freestylers will rig the Freek with less downhaul with a tighter head for maximum lift, freestyle wave riders may use more downhaul for more control in a wider range of conditions.
The Freek gives maximum freestyle performance.
/ STABLE
/ BALANCED
/ EASY DUCKING
/ SOFT ROTATION
/ TUNABLE
TECHNOLOGY
KEY FEATURES
/ STABLE / BALANCED / EASY DUCKING / SOFT ROTATION / TUNABLE / AERO BATTEN POCKETS
SEAMLESS HEAD PANEL
This high abrasion area is made from only 1 panel and does not carry any exposed seams, preventing any potential weak point in this area. As a result, seam creep and seam-related failure have been eliminated.
DOUBLE SEAMS
All Severne wave sails have 25mm double stitched window seams. The wider, single colour seam tape ensures maximum tear strength and crash resistance
3&4 ROLLER TACK PULLEY
Roller tack pulleys are matched to the sails downhaul requirements and aligned for friction free downhauling and threading ease. Rig your sails with the Severne Hardware Division extensions for function and simplicity.
THERMOFORMED TACK FAIRING
Protects your board from impact and neatly covers the foot detailing. It incorporates the rope stash pocket for easy storage of your downhaul rope.
MOLDED SOFT EDGE
With recessed grooving, covering any vulnerable stitching the moulded soft edge encloses the hard edge long the foot of the sail and protects the stitching from wear along the board non-skid.
EM4 HIGH LOAD LAMINATE
Based on the proven eM3 platform, the high load eM4 material features twice the amount of X-Ply fibre and increased film thickness to maximise durability. This new material allows weight reduction whilst maintaining puncture resistance and tear strength. Used in the lower impact zone in the sail.
SEAMLESS FOOT CONSTRUCTION
A single panel in the foot area with hidden load patches and zero exposed stitching eliminates seam abrasion and seam creep in this high load area. Maximum durability and minimum weight.